KeyLight's new KeyMobile interface provides full operational field work support to document all changes in the network directly from the field using smartphone or tablet. Read below how KeyMobile can help you to document and manage your field work better.
The components and technology of street lighting networks are constantly evolving and becoming more complex. New types of components are connected to the network, the technical characteristics of components varies significantly and network should be continuously developed and maintained efficiently. Network management is becoming more complex all the time, so how do you make sure that day-to-day maintenance and future investments can be handled efficiently?

In the maintenance of lighting networks, a modern operating environment today requires that network objects including location, attribute and connectivity information are always available when working in the field. This information availability significantly speeds up maintenance in many cases by eliminating unnecessary time spent for clarifying issues and removing errors. Also, updating the information and making the necessary new entries immediately when the situation requires will reduce the time spent on documentation and speed up the sharing of up-to-date information between stakeholders.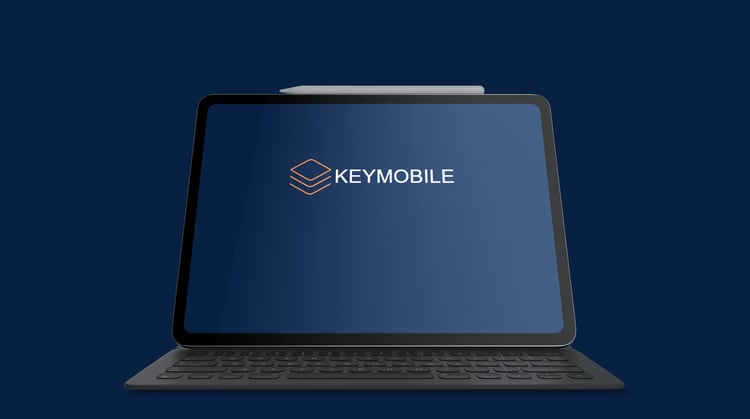 To meet this modern need, we have developed a completely new mobile user interface called KeyMobile for the KeyLight network information system, which meets the needs of a new and more demanding operating environment. The user interface itself works in the browser of a mobile device, for example a phone or a tablet, without separately installed add-ons. Lighting network information is therefore available anywhere, anytime for everyone.

The mobile user interface includes extensive support for lighting network maintenance needs, allowing the field contractor to manage network object location, attribute and connectivity information as well as work tasks in a very comprehensive manner. Below are a few different use case examples in which KeyLight's KeyMobile can be used to maintain lighting networks.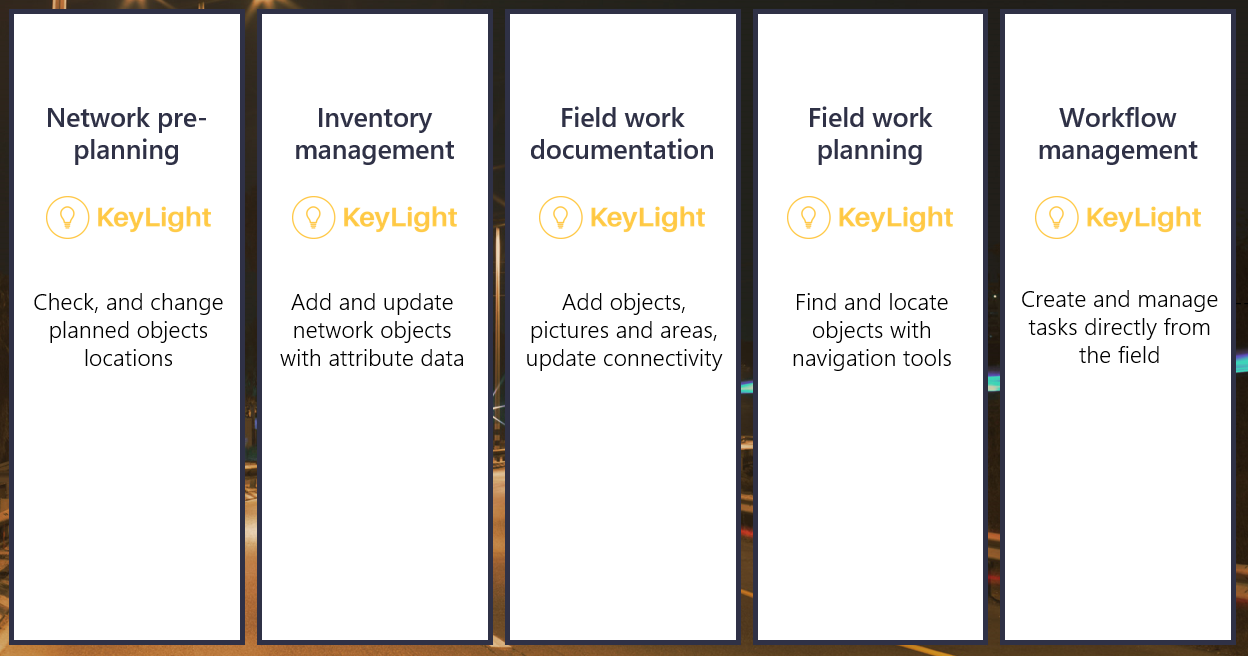 Network pre-planning

If the lighting designer has made a preliminary streetlight plan using KeyLight GIS, for example new pole locations related to the construction of a new network, KeyMobile can be used to check the suitable locations of the new poles during the field trip and also missing pole locations can be added if necessary. The location and related attribute information can be immediately updated to meet the actual need directly from the field. Changing the location can be done manually on the map by pointing with finger or using a separate precision GPS device to determine the exact location.
It is also possible to define polygonal geographical areas using KeyMobile to inform lighting network designers regarding problematic areas which requires field trips or more detailed planning to resolve challenges and make good end result.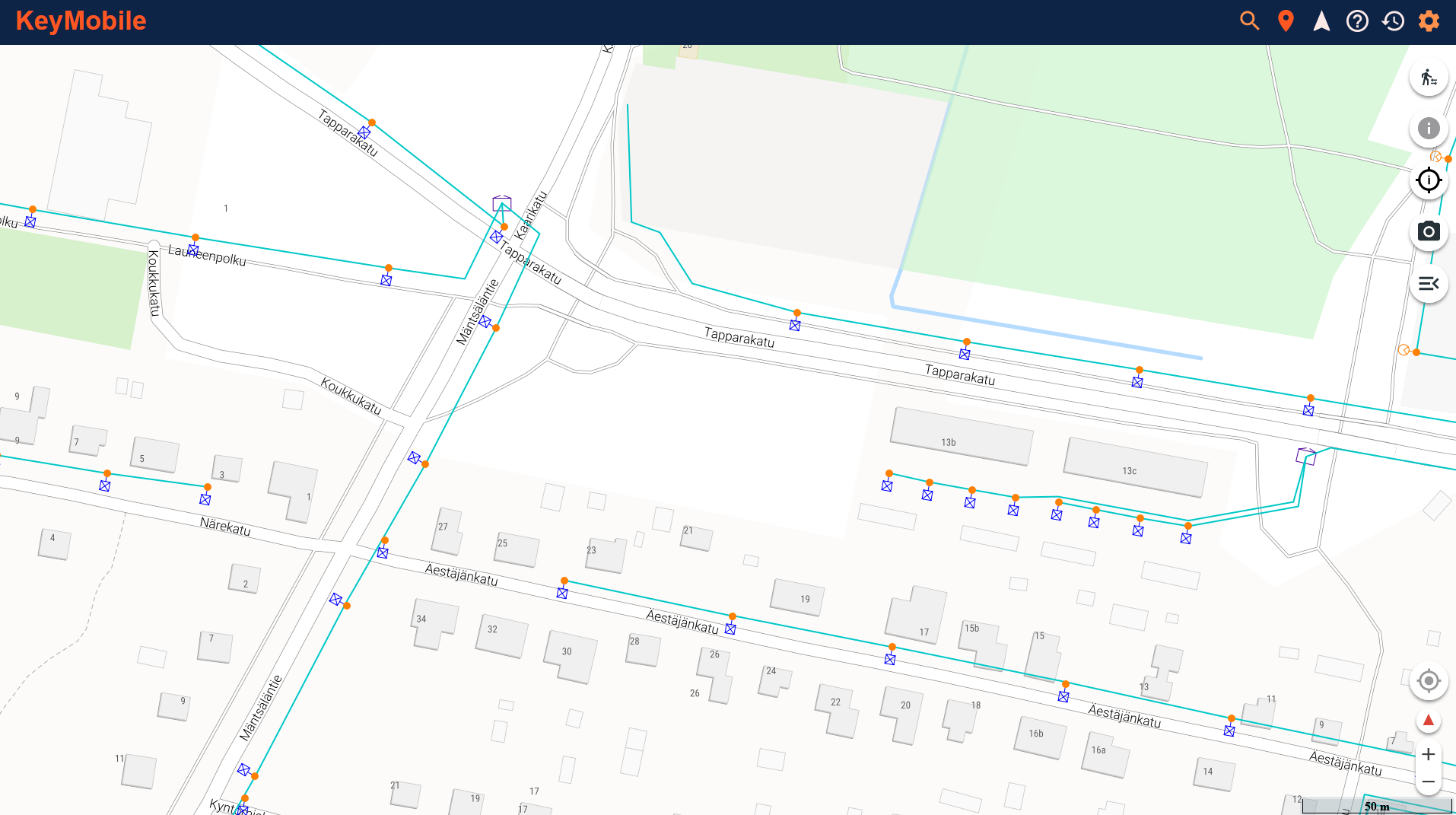 Inventory management and field work documentation

The existence of up-to-date information on the lighting network is important for the planning of network investments and operational day to day maintenance. In KeyLight, a task can be created for the contractor in which the lighting network components must be inventoried or checked from the desired area.
The contractor can use KeyMobile to open the task, navigate to the network object, verify the correctness of the attribute-, location and connectivity information for each specified item, add the missing information, and update the incorrect information. More examples of field work documentation can be found below.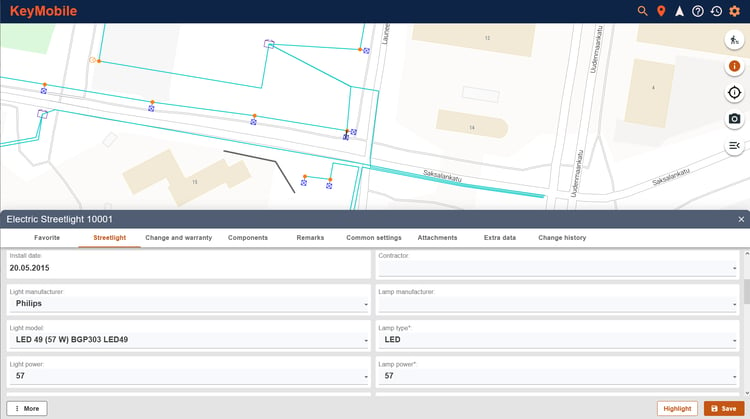 Collecting faults and managing lighting network tasks

KeyLight includes a public fault reporting interface for collecting lighting faults from residents. This public site can be linked to city's own website. Fault reports received through this channel can be routed to the contractor's personnel in the field for repair in accordance with their own process. The contractor can see the work tasks assigned to them using their own KeyMobile interface and take these tasks under the work for repair. Once the task has been completed, the necessary material and hourly entries are made through KeyMobile, and any photographs and notes are added, after which the task is marked as completed.

If the repair of the task requires, for example, excavation operations, KeyMobile can be used to accurately create polygonal geographical area object on the map, which can be used by excavation contractor when executing grounds works, for example marking dangerous areas where other network infrastructure might be located.

The topological connectivity of the network can also be kept up-to-date in real time during repair process. For example, a contractor can disconnect a cable from a pole and add a temporary electricity distribution limit mark using KeyMobile while repair work is in progress. Once the situation is resolved, the cable can be reconnected to the pole, keeping network follower and lighting network documentation up to date.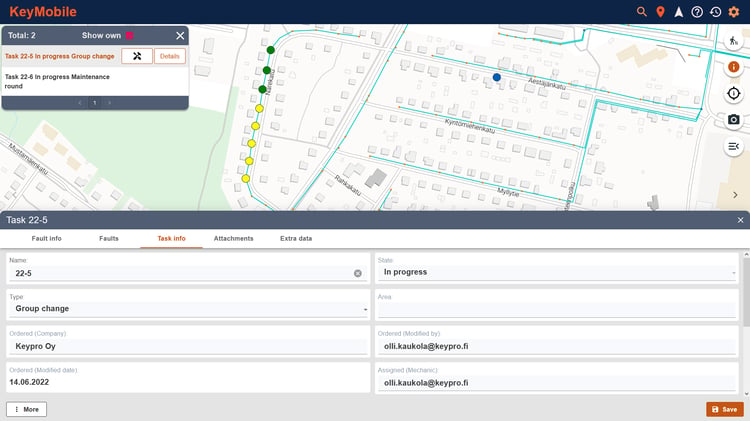 Workflow management and light unit group changes

Streetlight network maintenance management includes several different kind of tasks and one very common mass-type of task is a group change of light units for specified area. This type of tasks includes usually massive amount of light units to be changed.
The group change task can be created, for example, by the contractor's supervisor, and the field contractor can use KeyMobile to locate the group change task assigned to him or her and the light units that belong to it. Once the task has started and the first light unit has been replaced, the completed object can be marked ready very quickly using KeyMobile and then field worker can move to replace the next light unit. KeyMobile supports fast completion for group change-type tasks.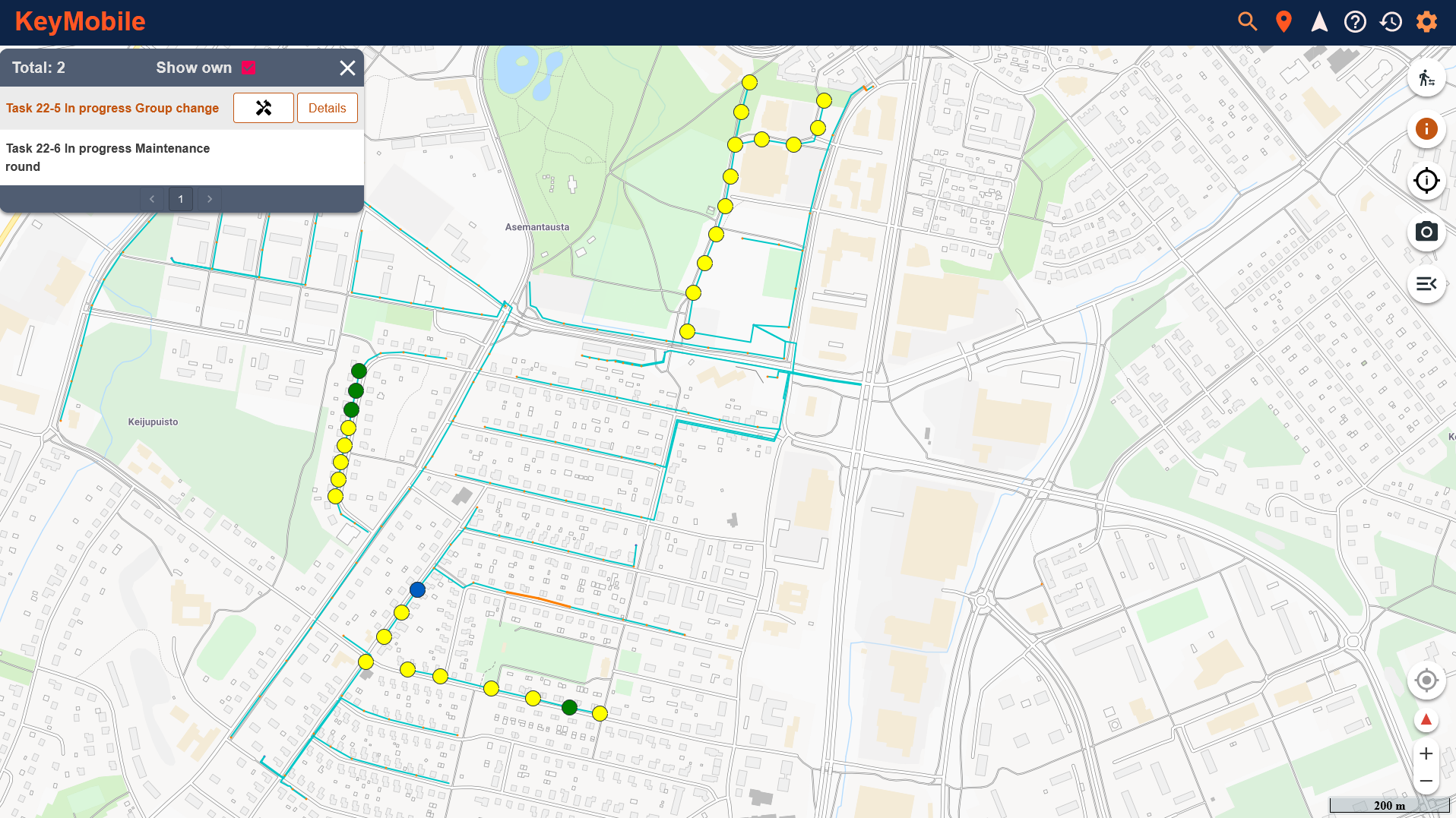 Searching and locating objects

Finding a lighting network objects quickly, such as the right lighting premise, saves a lot of time. With KeyMobile, it is possible to retrieve network object locations with the specified attributes. For example, entering a ID of streetlight premise in the search field can locate an item and highlight its location on the map. Navigation tools allow the contractor to find the site and objects quickly.
User specific settings

KeyMobile user is also able to set user specific settings to make usability smoother based on use case at hand. These settings can used as a default for all situations or user can configure for example favorite lists based on current needs to find information faster. Different data layers can be enabled or disabled to show only necessary information on map view and thus make it easier to find network objects and other information.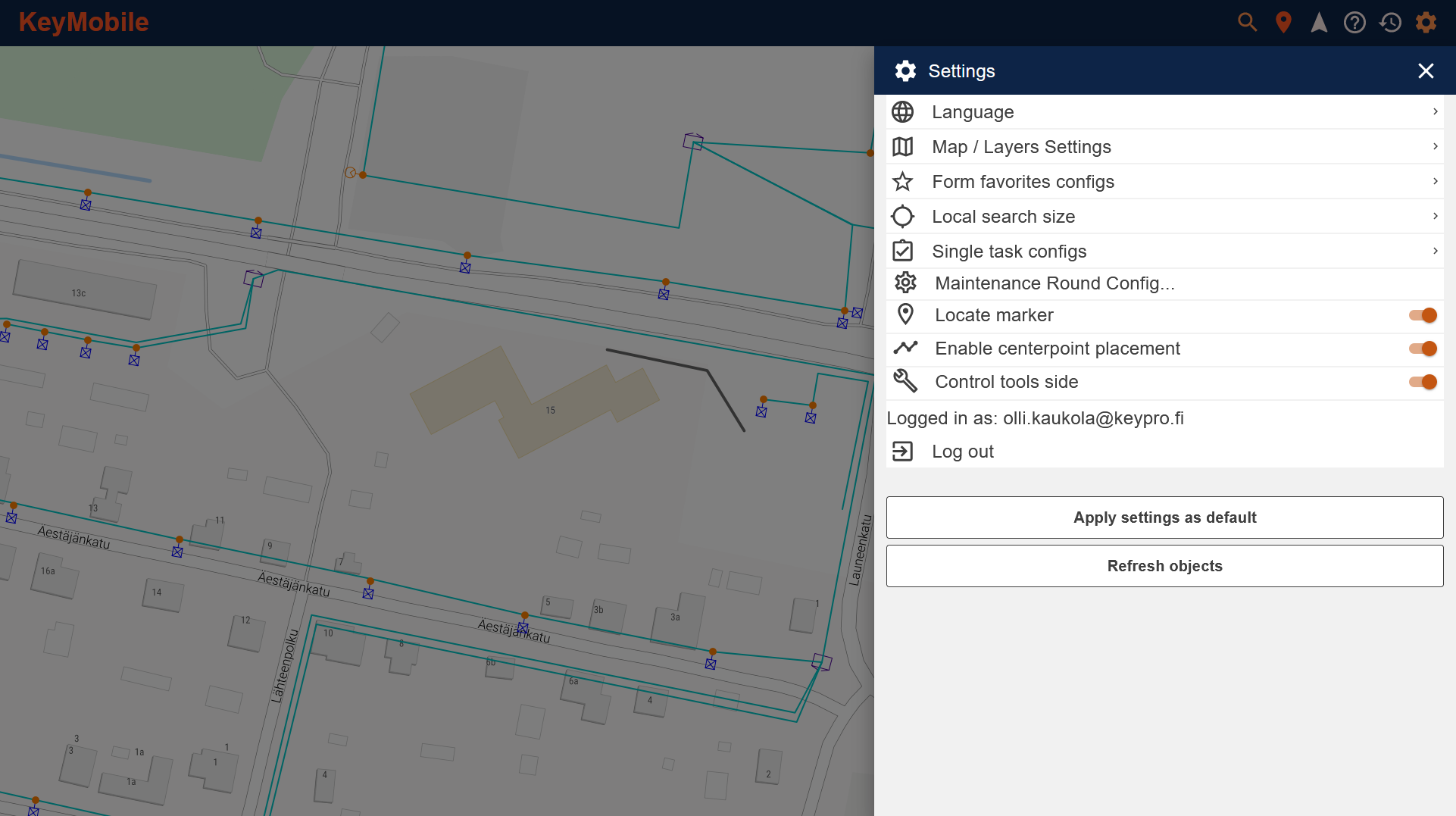 Recap
KeyLight KeyMobile includes full operational field work support to see, search, visualize, document and manage everything what happens in the field real time. Using these extensive features, high quality and real time documentation can be shared to all internal and external stakeholders and more cost efficient field works can be done.
Want to know more about KeyLight GIS? Click here to see more.