Data import and export are really important in the network information system. Our KeyAqua NIS/GIS is a good tool for collection, validation, preparation and/or harmonization of the heterogeneous data. In the project Waterverse, we will pilot selected use cases in the selected themes: risk management, network management, asset management and leak water management.
What is this project?
We are participating in a three-year project about data utilization and data transfer. This EU-funded project aims at making water data management accessible, affordable, secure, fair, and easy to use. This is a joint project with 17 partners located in 10 EU countries, representing the water domain with research organizations, water utilities, technology providers and innovation companies. More info about the project here. Project is quite technically oriented, but at the same time water utilities needs and use cases will be taken into account.
KeyAqua already support many data import and export possibilities. Also, KeyAqua has possibilities to store, analyze and visualize the data. Our role in the project is piloting about data import and export and data standardization. To simplify, plan is to optimize data flow between systems to help water utilities in their needs.

We want to improve and standardize our import and export possibilities. Initial ideas for the pilot include:
Import/export in general

GeoJson compatibility

API enhancements

How to make data import and export from KeyAqua more standardized
Possible use cases in the pilot
Here are examples of use cases we could pilot: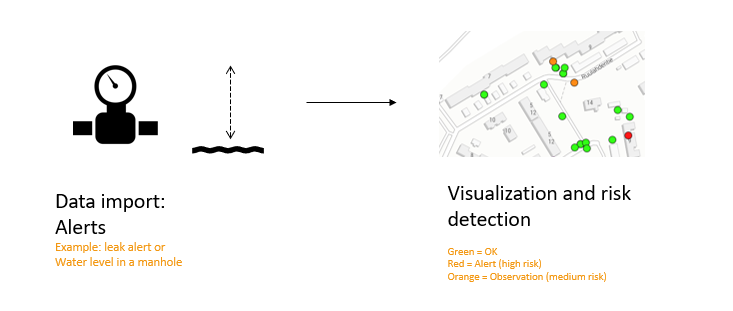 Possible use case 1: Alerts from the field for risk management. Import: IoT data. Export: ?

Possible use case 2: Most leaking areas and leak indexes. Import: IoT and metering data, rain data, distribution areas (?). Export: leak indexes per area (?)

Possible use case 3: Duct classification and renovation prioritization. Import: criteria (about condition, criticality, ...). Export: duct indexes (?).
Please help us to ideate and plan the pilot!
The examples above are initial examples, and the next step is to ideate together. Hence, we have important question for water utilities and our partners: what kind of data would you like to import to or export from KeyAqua? Would you be interested in piloting with us? We need you to help us, to help you!
Please fill your ideas in this form: https://forms.office.com/r/Mna6ny33BC
Also, please add your ideas to this ideation platform: https://www.menti.com/al9vevu57g73
Here you may see the ideation results: https://www.mentimeter.com/app/presentation/alcphrtmdcu54yzd9y4vu7bcicu8yw8d
Project status 12.10.2022:
Project launched in October 2022 and we are now gathering ideas about use cases and the pilot. Below you may see a group photo of project partners in the Kick Off meeting in Thessaloniki, Greece 11.-13.11.
Project has received funding from the European Union's Horizon 2020 Innovation Action under grant agreement No 101070262